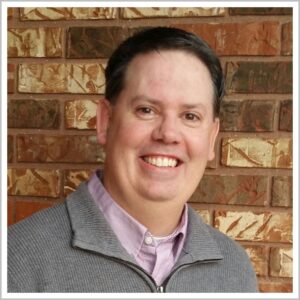 Scott works with adolescents, adults, couples, and families to provide a confidential and comforting environment to help people deal with difficult life issues. He provides hope filled support to empower individuals and families to heal, grow, and make positive changes in their lives.
Scott received his Bachelor's Degree in Health Education from Southern Illinois University Carbondale and his Master's Degree in Human Development Counseling from the University of Illinois Springfield. He has worked in a variety of clinical settings including: community mental health, schools, and child welfare. Scott is a Licensed Professional Counselor in the State of Missouri and a National Certified Counselor through the National Board of Certified Counselors.
Scott utilizes a variety of therapy techniques including person centered, cognitive behavioral, trauma informed, and goal oriented.  He has over 20 years of dedicated experience  helping individuals and families heal from anxiety, depression, ADHD, adjusting to life changes, relationship issues and many more difficulties. In addition, Scott specializes in treating emotional trauma caused from the effects of abuse, crime, or accidents. Family members can also seek support to deal with these difficult issues and how it affects the entire family.
Scott is an in-network providor for Humana, Cigna, and several Employe Assistance Programs. Scott is an out-of-network providor for Blue Cross and Blue Shield of Kansas City. Please call your insurance providor if you have any questions about coverage.
Scott looks forward to meeting you with his authentic and empathetic style. Please call (816) 525 5333 ex. 1 or set up an appointment at www.cornerstonecounselors.com
Email Scott