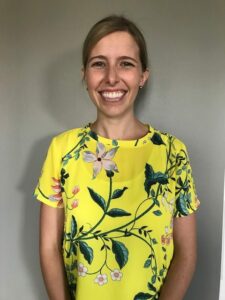 I am Baylee Gooderl, M.S., LPC. I have a MS in Counseling from Missouri State University and a BS in Child and Family Development from the University of Central Missouri. My passion is working with children and adolescents. I also enjoy working with the LGBTQ community and adults. I have extensive experience working in community mental health and a variety of populations.
I am trained in Parent-Child Interaction Therapy (PCIT), which is an evidenced-based intervention that combines behavioral therapy and play therapy. PCIT provides treatment to child ages 2 to 6 that have ODD (e.g. aggression, non-compliance, defiance, and temper tantrums) and ADHD (e.g. hyperactivity, impulsivity, anxiety, and anger). It also helps to strengthen the child-parent relationship through the use of positive communication and effective child management skills. I also have trainings in sand tray therapy and play therapy. When working with families I tailor treatment to fit the needs of the family system.
My past experience includes working with adults who struggle with anxiety, depression, relationship issues, grief, parenting, and trauma. When approaching therapy I am client centered and non-directive. I have respect for my clients and believe that they are motivated to change. I enjoy collaborating with my clients to help them navigate through life's obstacles.
Email Baylee