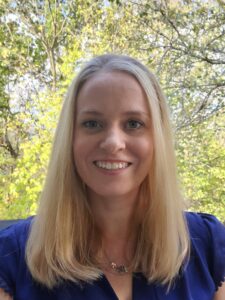 My name is Kristen Dody and I'm a Licensed Professional Counselor in Kansas and Missouri. I have a Bachelor of Arts degree in Psychology from the University of Kansas and a Master of Science degree in Counseling Psychology from Avila University.
My passion is providing Parent Child Interaction Therapy (PCIT), which is evidence-based treatment for children with behavior problems. PCIT combines the use of behavioral therapy and play therapy. PCIT is appropriate for children between the ages of 2-6.5 years old that have behavioral disorders such as oppositional defiant disorder (angry, irritable, argumentative, struggle with authority) or attention-deficit hyperactivity disorder (ex. trouble focusing, hyperactive, impulsive, trouble completing tasks). Children that struggle with behaviors at school and/or at home would benefit from PCIT. More information about PCIT is provided at pcit.org.
I have experience in providing individual and family counseling to children and adolescents. I've worked in a variety of settings, including community mental health, school, child welfare and home-based services. I utilize a variety of therapy techniques including, client centered, cognitive-behavioral, solution focused, and trauma informed. I have experience working with individuals struggling with anxiety, depression, mood disorders, relationship problems, parenting and trauma.
I'm able to provide services in-person or through telehealth. Please call (816) 525-5333 ext. 2 or set up an appointment at www.cornerstonecounselors.com.