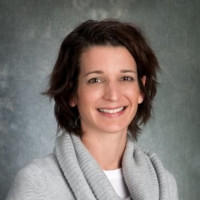 Thank you for visiting my site and taking the first step in reaching out for help. I am a Licensed Master Social Worker in both Kansas and Missouri  with clinical experience in treating adolescents and adults struggling with disordered eating, body image disturbances, binge eating, anorexia, bulimia, mood disorders, anxiety, low self-esteem, and previous traumas.
I was born and raised in Omaha NE and will always be a Husker's fan, even though my graduate and undergraduate degree are from KU, sorry Jayhawk fans.  I am a busy mom of a 10-year-old daughter,  7-year-old son, and owner of 2 dogs, which 'strongly encourages' me to embrace my 'house is clean enough' and perfection is impossible.
My passion for helping those with mental illness began with my own journey to finally reach out for help. I struggled with my own eating disorder, depression, anxiety, and body image disturbances. I understand the financial and emotional burden of seeking help. I recognize the necessity of finding affordable therapy within the Kansas City area.  I am an authorized Kansas Medicaid provider and can do HIPPA compliant virtual sessions in Kansas and Missouri.
Please call (816) 525 5333 ex. 6 to set up an appointment.
Email Katie